Good afternoon all,
A newbie here, just looking for some advice. I have an outdoor boiler that I am looking to hook up in an old house that I just purchased earlier this winter. It's kind of a shame I'm just now getting to hooking up something, because the setup I have in the house is... not ideal, we'll put it that way.
It was my granpda's old house, which has had various renters over the past 8-10 years. Oh the joys that come with that alone
My current system in my house is a 25+ year old propane furnace (it's a Clare Brothers furnace from Canada - they closed their doors in '91, so I'm guessing it's at least that old), as well as an indoor wood furnace. The indoor wood furnace is terribly inefficient, as it would generally take more than a heaping 8ft.-bed-truckload a week to heat a 1400sq ft. house at 20F-30F. Granted, the house is very drafty, and I imagine the system is not nearly as efficient as it should be, but I cut firewood in middle school for him for a year and could hardly keep it fed if he ran it all the time, so my uncle & cousin kept his furnace fed before he decided to go to assisted living.
Anyway, all that said I intend on replacing the stuff in the basement this summer. I have my lines ran to the furnace outside, and brought the pipe into the foundation. I'm ready to hook up to something, but that gas furnace is running iffy as it is, I hate to mess with it at all(i.e. put an exchanger over the top). It needs to find a home at the scrap yard IMO, and the other wood furnace is going to a friend for his shop. He wants to see if he can help it run any better while he's at it, so by all means I'll let him.
I have all the prior ductwork, so I would like to stick to some sort of Hydronic Air Handler solution, but I'm not sure where to start. I'm sure there are all kinds of things that will work, but I just wondered what some of you might be doing here. I want to be able to have some sort of backup way of heating the house through that system as well, just for the sake of having some peace of mind.
According to this map, with 1400sq. ft., I should be at about 70,000 btu's as a guess. Does this seem like a reasonable number? I've been attempting to use this as somewhat of a guide. I live in the Northeast area of Indiana.
Site:
Link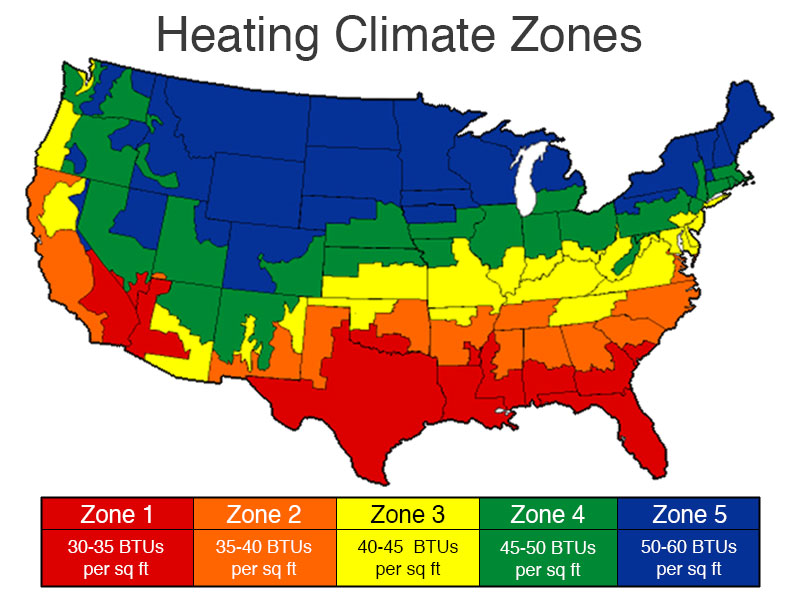 This leads me to some options:
I have seen these before, and they peak some interest, but with no other heat source I would have to look at a backup burner of some sort :
Link
I've also seen things similar to what is posted above, but I also know of people that just stick a water-to-air exchanger over the top of their existing furnace. In my scenario, I'm not too sure that would have done well for me. Is this even a good idea? I can't imagine that it would put a ton of strain on the blower in a furnace, but I'm just not sure.
I'm also wanting to run central air in the system, as it will be pretty toasty in the summer. I know this may prove difficult with all of the previous requirements, but hopefully not too difficult.
I'm all ears guys, and thanks in advance for any help!