Last year my wife and I built a new house. The contractor puts in electric heat pumps with a backup electric strip and my plan was to install an outdoor furnace. Something happened and I was out the money for the furnace. Fast forward a year and I have the down payment on a Heatmaster G200. It will be installed here withing a few weeks, Im just waiting on my excavator to come dig the trench (as well as do the final grade of the rest of my property) and I can pour a pad. I have a plumber lined up to do all the plumbing for me since he piped the house as it was being built for hot water. He is willing to allow me to purchase the equipment and he will install everything. He hasnt came back to tell me what all I need yet but I think I have a lot of it figured out. Id like to run everything past you guys to tell me what you think and suggestions of where I went wrong. Ultimately since he is installing he will call the shots but the more I read and learn about things I think its really fun to plan this on my own.
So here were go.
Heatmast G200
-2 story home will be heating 3,000 square feet plus domestic hot water
-Combination of hot water radiators and hot water radiant floor heating. 3 zones for radiators and 2 zones of floor heat.
-My pipe from the furnace will be 1 1/4" pex 45' to the house and another 60' from point of entry to the heat exchanger. All other pipe I believe is 3/4"
-70 plate heat exchanger for heating
-10 plate for DHW
-5 Gundfos UPS 15-58 for the zones
-1 Gundfos UPS 26-99 at the back of the furnace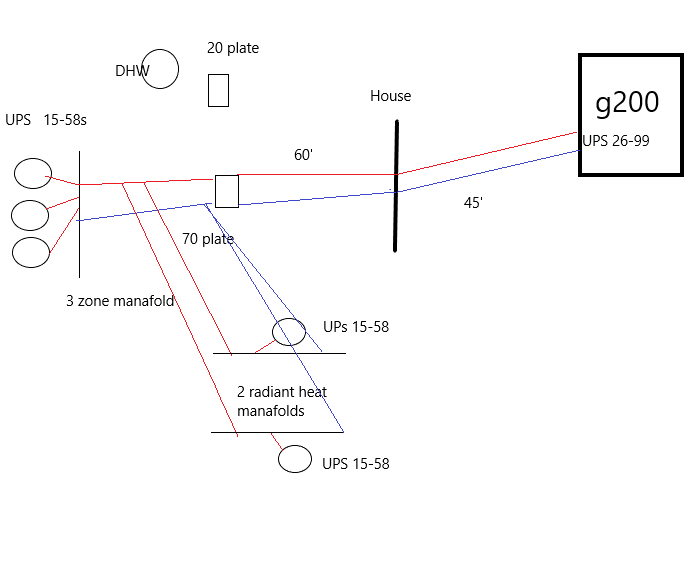 I know i probably dont have all the returns drawn right but basically come from the furnace to the 70 plate and then to my zone pumps. Where do i put the dhw heat exchanger? I think I have everything parts wise (minus elbows and mixing valves...) down on the drawing. What am I missing and or what am i doing wrong